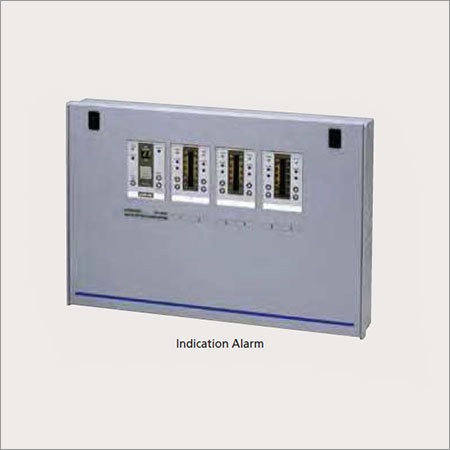 Hydrocarbon Gas Detector
Product Description
Our enterprise is an acclaimed manufacturer, exporter and supplier of a broad spectrum of Hydrocarbon Gas Detector. This gas detector is well suited for sensing hydrocarbon gases at various industries. It is manufactured with high precision under our experts' direction with the help of modern techniques and using superior grade basic material. Also, this Hydrocarbon Gas Detector is available with us in varied technical specifications.
Features:
Noiseless operation of sensor
Battery operated
Long term stability results in reduced maintenance requirements
Displays gas concentration during gas alarm on bar graph.
Maintains normal operating condition under seismic test.
Keeps monitoring for over 30 minutes at electric power failure.
Indication Alarm NV- 600H S
Multi-point type gas detection system to monitor the leakage at hydrogen fueling stations.

Specifications of Indication Alarm
Model

NV-600HS

Detection Point

2 points per unit

Detection Range

As per specifications

Indicator

LCD bar graph with backup light

Alarm Set Value

As per specifications

Alarm Accuracy

+/-25% of preset alarm point

Response Time

Within 30 sec using test gas concentration 1.6 times that of preset alarm pomt

Alarm Indication

1st stage alarm: Ist stage red lamp blinks

2nd stage alarm: 2nd stage red lamp blinks fig

Alarm output terminal

Individual Alarm Contact
Individual – Voltage output
Collective Alarm Contact
Buzzer Contact
External Buzzer Contact
Centralized Monitor Output

1a no-voltage(contact capacity:100VAC, 2A:resistance load)
0-6-1 2V DC within 20mA
1c no-voltage(contact capacity:100VAC, 2A:resistance load)
1a no-voltage(contact capacity:100VAC, 2A:resistance load)
Intermittent voltage signal(12V DC within 10mA)
0-6-1 2V DC within 20mA

Alarm Delay

Selectable by DIP switch (Standard: 10s)

Power Source

100-240V AC, 50/60Hz (standard)
24V DC (need to be specified)

Power Consumption

Diffusion: (15+3.5n) VA
Extractive: 4 VA per 1 set

Backup Power Supply(only built-in backup power type)

Battery type: Sealed lead acid battery
Backup Time: 30m within 12-point diffusion type detector
Overdischarge Prevention Function
Charging Time: Approx. 24-hour

Operating Temperature

0 to 40 degrees C

Body Color

Munsell 2.5PB 7.0/1.0