Flange Mounted Pumps for Bobtails and Transports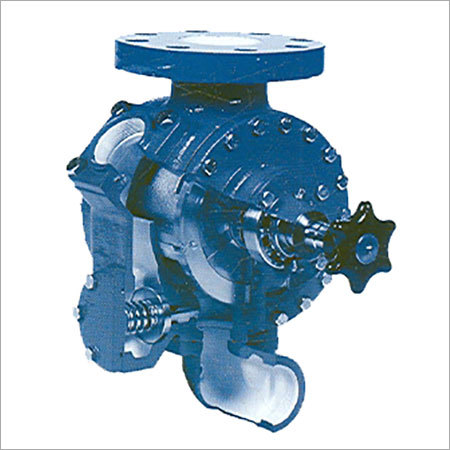 Flange Mounted Pumps for Bobtails and Transports
Product Description
Blackmer TLGLF3 and TLGLF4 pumps are designed to flange mount directly to a commercial internal control valve, in combination with the tank of a bobtail or transport. Direct mounting eliminates the need for inlet pipes, shut-off valve and external strainer which can restrict flow and cause vaporization problems. The result is smoother operation and longer pump life.

Both models are equipped with a double-ended drive shaft for clockwise or counterclockwise rotation by simply changing position of the pump. Each model also has an auxiliary intake port which can be used for emergency unloading of another tank or transport. In addition, these pumps have an internal relief valve, patented cavitation suppression liners to reduce noise, vibration and wear.

Standard construction materials for both models include Buna-N mechanical seals and Duravanes for handling both LP-gas and anhydrous ammonia. The casing liner and end discs are replaceable for easy rebuilding of the pumping chamber if ever necessary.

The TLGLF3 is widely used on bobtails because of its compact mounting arrangement, with a 3-inch ANSI intake flange and 2-inch auxiliary intake and discharge ports. Capacities range from 60 to 129 U.S. gpm (227 to 488 L/min).

The TLGLF4 offers maximum output rates, and fast turnaround time for transports. It is designed with 4-inch ANSI intake flange, a 3-inch auxiliary intake port, and twin 2-inch discharge ports which permit the use of two hoses, if necessary, to reduce pressure loss when unloading into restrictive receiving systems. Capacities range from 200 to 350 U.S. gpm (7571,325 L/min). Maximum differential pressure for both models is 125 psi (8.62 Bar).
Hydraulic Drive Packages
Blackmer 2-inch through 4-inch pump models are offered with complete factory engineered hydraulic drive packages. Blackmer highly recommends the use of hydraulic drive systems to maximize pump performance and extend equipment life, especially on truck mounted bobtail and transport pumps.

The Blackmer Hydrive cooler by Mouvex, a Dover company forms the heart of a hydraulic drive system, and offers up to 26 horsepower (19.4 kW) of actual heat dissipation. The Hydrive has a compact design with stainless steel. It protects the system during cold start-up, allows for remote system on/off control, and provides both system cooling and monitoring of oil filtration.

A typical hydraulic drive package includes a P.T.O., hydraulic pump, Hydrive cooler, cargo pump control valve, speed control valve, hydraulic motor, and mounting hardware. Hydraulic motor adaptor kits are also available to retrofit existing Blackmer LP gas pumps for hydraulic drive operation.
Technical Specifications:
Standard
Pump

Pump
And
Motor
Speed
Rpm

Approximate Delivery Of Propane @ Differential
Pressures And Pump Speeds
Shown

Maximum Differential
Pressure

Maximum Working Pressure

model

Factory
Relief
Valve
Setting

50 Psi
(354 Kpa)

100 Psi
(689 Kpa)

Psi

Bar

Psi

Bar

gpm

L/Min

Bhp

Kw

Torque

Gpm

L/Min

Bhp

Kw

Torque

Ft.Lbs

Kg/M

Ft.Lbs

Kg/M

TLGLF3

150 psi
(10.34 kPa)

870

800

650
600
500
400

129

118

93
85
70
52

488

446

352
322
265
197

6.5

5.1

4.3
4
3.6
2.8

4.8

3.8

3.2
3
2.7
2.1

45.9

44.4

40.4
39.3
37.4
36.2

6.3

6.1

5.6
5.4
5.2
5

119

107

83
75
68
40

450

405

314
284
257
151

10.9

8.7

7.9
7.0
5.7
4.5

8.1

6.5

5.9
5.3
4.5
3.6

72.5

69.7

63.7
62.2
61.5
60.8

10

9.6

8.8
8.6
8.5
8.4

125

125

125
125
125
125

8.62

8.62

8.62
8.62
8.62
8.62

350

350

350
350
350
350

24.13

24.13

24.13
24.13
24.13
24.13

TLGLF4

150 psi
(10.34 kPa)

800

650
600
500
400

350

280
260
210
160









1,325

1060
984
795
606









22

15.5
14.3
11.9
9.5





16

11.6
10.7
8.9
7.1

143

125.2
125.1
125.0
124.7

20

17.3
17.3
17.3
17.2

306

245
220
170
120

1,158

927
833
644
454

34

25.0
23.0
19.0
15.2

25

18.6
17.2
14.2
11.3

223

201.9
201.3
199.5
199.5

31

27.9
27.8
27.6
27.6

125

125
125
125
125

8.62

8.62
8.62
8.62
8.62

350

350
350
350
350

24.13

24.13
24.13
24.13
24.13