Odor Monitor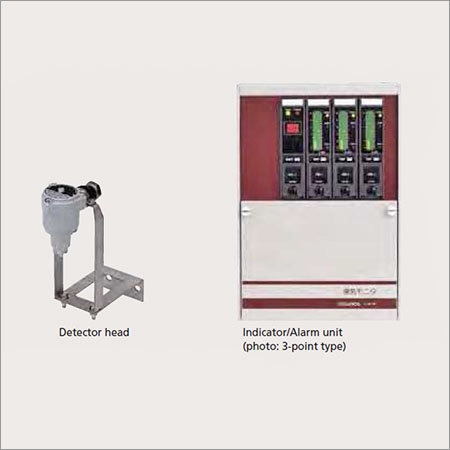 Odor Monitor
Product Description
Odor Monitor
Applications:
Odor monitoring at site boundaries of various factories
Indoor environmental monitoring
Inside-equipment odor monitoring
Odor control at exhaust ports of various factories
Performance control of deodorizing equipment and air cleaners

Features:
Our original metal oxide odor sensors detect target odors with high sensitivity.
Achieved continuous monitoring, which was impossible with sensory evaluation or instrumental analysis.
You can freely create a monitoring system according to the number of detector heads you need.
Equipped with an external output terminal which allows continuous recording.
Equipped with a 50-dot bar-graph meter which indicates the odor level in real time.
Specifications:
Model

V-819 (3-point type to 12-point type)

Gas Detected

Various fragrance/odor component

Mainly hydrogen sulfide odor

Detection Principle

High sensitive tin oxide hot wire sintered semi conductor sensor

Super sensitive zinc oxide substrate thin film semi conductor sensor

Indicator

LCD bar graph (0-10 scale, no unit, 50 dots) with backlight

Sampling method

Diffusion type (Non-explosion-proof)

Alarm set value

Adjustable

Alarm Indication




Indicator Unit

Alarm Unit

Odor level alarm

Alarm lamp (red) flashes (lights up after reset)

Lights up red and buzzer sounds intermittently on alarm from at least one indicator unit (buzzer stops after reset)

Non-latching is standard for the alarm indication of the indicator units and alarm units.

Contact output

Indicator unit (individual alarm): Alarm (1a) 1A@100V AC (resistance load)
Alarm unit (collective alarm): Alarm (1c) 1A@100V AC (resistance load)
Trouble (1a), Buzzer (1a)

External output

4-20mA (input resistance: 500 or lower)

Operating temperature range

-10 degrees C to 40 degrees C

Power source

110V AC+/-10%, 200/220V AC, 50/60Hz, 24V DC+/-10%

Power consumption

(25+5xn)VA (n is the number of the detection points)

Installation

Wall mount (or panel mount)

Applicable Cable

CVVS of 1.25-2.00mm2, 3C (cable resistance: one way resistance of 10 or lower)

Exterior Color

Munsell N8.0 (Indicator/Alarm unit) Munsell N7.0 (Detector head)

Options

Rainproof cover (KW-14A)