One Point Type Gas Detector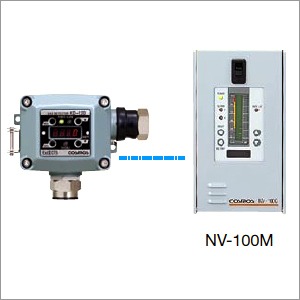 One Point Type Gas Detector
Price And Quantity
Product Specifications
Industrial

One Point Type Gas Detector
Product Description
One Point Type

Simpler, smarter and reliable gas detector with digital display
Simple and cost effective installation
Rugged, compact and lightweight design
Environmentally friendly product.
Features
LED Display
Large and easy-to-see display shows the gas concentration and alarm indication
Easy maintenance
With a magnetic stick, zero and span adjustments can be done with out any difficulty on site.
Easy sensor replacement
The simple plug-in sensor module makes it easier.
Rugged, Compact and lightweight
Protection rating, IP65(Standard)
Size W 158xH116xD68mm, weight 1.2 kg
Explosion-Proof
KD-12A/B/C are designed as ExdIII CT5 for Hydrogen and Acetylene.
Technical Specifications

Mode

KD-12A

KD-12B

KD-12C

KD12D

KD-12O

Corresponding Sensor type

Hot wire semiconductor

Catlytic combustion

Thermal conductivity

Electrochemical cell

Galvanic cell

Target gas

Combustible/toxic gas

Hydrogen, Helium, Carbon dioxide

Carbon monoxide

Hydrogen sulfide

Oxygen

Sampling Method

Diffusion type

Detection range

As per specifications




0-100ppm, 0-150ppm or 0-250ppm

0-30ppm or 0-50ppm

0-25.0 vol%

Alarm Accuracy

Combustible gas: +25% of alarm set value(under identical conditions)

+30% of Alarm set value(under identical conditions)

+1.0 vol% of Alarm set value(under identical conditions)

Warning Display

Gas Alarm: Red LED lamps flashes
Trouble Alarm: Yellow LED lamp flashes(sensor trouble, power voltage mulfunction, etc.

Gas concentration Display

4-digit digital LED display

Cable connection

Screw-less/terminal block

Cable connection

Screw-less/terminal block

Degree of protection

IP65

Power supply

24V DC(18 to 30V DC)

Weight

Approx. 1.2 kg

Approx. 1.3 kg